Vanellope Von Schweetz
Comments

4
27pages on
this wiki
Vanellope Von Schweetz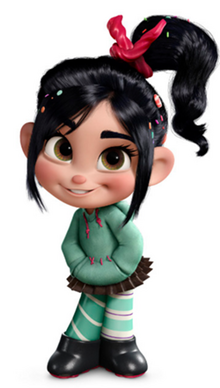 Vanellope von Schweetz is one of the main characters of the film Wreck-it Ralph. She is the princess of Sugar Rush, but prefers to be called president.
Biography
Edit
"Known as "The Glitch," Vanellope is a pixelating programming mistake in the candy-coated cart-racing game Sugar Rush. With a racer's spirit embedded in her coding, Vanellope is determined to earn her place in the starting lineup amongst the other racers. Only problem: The other racers don't want her or her glitching in the game. 15 years of rejection have left Vanellope with a wicked sense of humor and a razor-sharp tongue. However, somewhere beneath that hard shell is a sweet center just waiting to be revealed."
Appearance
Edit
Vanellope is a small child with raven-black hair, fair skin, and hazel eyes. She wears her hair in a ponytail tied with red licorice and it is covered in bits of candy. Her outfit consists of a mint green sweatshirt with a kangaroo pouch and pink drawstrings, a ruffled two-tiered brown skirt, teal, purple and white stripes,and black cleats.