Torvald Batterbutter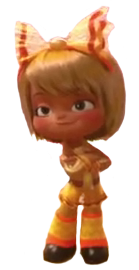 Torvald Batterbutter is a racer from the game Sugar Rush. She is a palette swap (recolor) of Minty Zaki and only appears for a few scenes, and is absent from the online adaption of Sugar Rush. Her name is seen in the scoreboard after Vanellope pays her fee to the race. Her theme is based on butterscotch caramel candies.
AppearanceEdit
Torvald is a you g girl with dark skin and brown eyes. She has short, light brown/golden hair with sideswepth bangs, topped with a yellow/orange candy-wrapper bow. She wears a yellow shirt under a light brown jacket, with a yellow orange candy-wrapper skirt and yellow leggings. She also has orange, brown and yellow patterned leggings and black shoes. 
Torvald, along with the other recolors, did not appear in the candy vandal scene. Meaning she probably liked Vanellope and tried to tell Minty to leave her alone.
==
==