Welcome to the Sugar Rush Wiki
Sugar Rush is the arcade game that Ralph unwillingly enters while flying an out of control space ship from Hero's Duty. It is a kart racing game set on tracks made of candies and cookies, and it is where Ralph encounters the "glitch" Vanellope von Schweetz.
Vanellope von Schweetz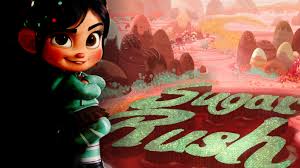 Vanellope is a young girl with fair skin, rosy cheeks and hazel eyes. Her hair is black and pulled back into a ponytail; it's decorated with a various assortment of small candies, and the scrunchie appears to be made of red licorice.
She wears a light mint-green hoodie with strawberry bootlace tassels, and two Reese's Cup wrappers for a skirt. Her mismatched leggings are striped with teal and white, and the left is additionally accented with purple "double stripes". She also wears black boots with red frosting scribbles on the soles.
Characters
Videos
Latest Blog
Polls
Who Is Your Favorite Sugar Rush Character?
What Is Your Favorite Game?
Who Is Your Favorite Minty Zaki?