Gloyd Orangeboar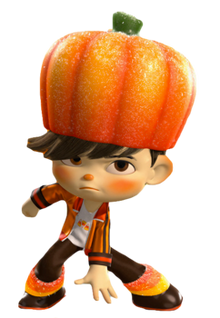 Gloyd Orangeboar is a racer from the game Sugar Rush. He is voiced by Travis Willingham. His theme is based around Candycorn and Mellowcreme Pumpkins. His signature kart is the Kernel. On the online adaptation of the game, he and Swizzle Malarkey are unlocked by completing the second track, Cakeway.
Biography
Edit
"Round-faced little hooligan Gloyd Orangeboar loves nothing more than candy, candy, candy! Fortunately for him, Sugar Rush has plenty to choose from and he enjoys it all. For this fast-racing prankster, every day is Halloween."
Appearance
Edit
Gloyd Orangeboar is a young boy with fair skin, orange-rosy cheeks, dark brown hair, and chesnut eyes. True to his nature, he wears a large, sugarcoated pumpkin skullcap and candy corn coloured socks. His jacket is shades of orange, black, and brown, colours generally associated with Halloween. It is worn over a white T-shirt with 3 candy corns on it, and accompanied by brown pants. His boots are a deep chocolate with reddish soles.