Adorabeezle Winterpop
[[Image: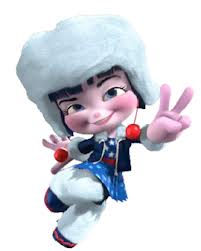 |center|220px]]
Adorabeezle Winterpop is a racer from the game Sugar Rush. She is voiced by Ashleigh Ball. Her candy theme revolves around ice pops and peppermints, and her signature kart is the Ice Rocket. On the online adaptation of Sugar Rush, she and Rancis Fluggerbutter are unlocked by completing the third track Frosty Rally.  (she is cool!) And she play guitar like Swizzle Malarkey does.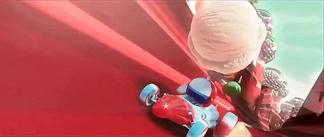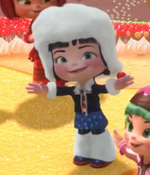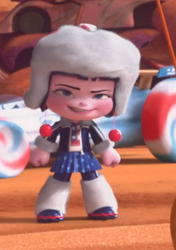 Biography
Edit
Adorabeezle Winterpop: Sweet Skiing
"Adorabeezle Winterpop is the prettiest, happiest, most amiable ice champion of all time. She's a racing and skiing fanatic who loves exploring new tracks hidden on the sugar-covered slopes of Sugar Rush."(talk about winter pops!)
Appearance
Edit
Adorabeezle Winterpop is a young girl with very pale skin, rosy cheeks and lips, thin blue eyes, and dark cobalt hair pulled back in a plaited braid. She wears a navy blue jacket with white, fluffy trim on top of a blue shirt with white stars and red stripes, a blue skirt with light blue polka dots, and navy leggings. She also wears a winter flap hat and matching boots that are decorated with the same trim. Her clothing is adorned with peppermints and other similar candies. Her racing outfit consists of her usual outfit along with a red, white, and blue racing helmet with a blue visor.  
She has a palette swap named Nougetsia.
Her power-up is an ice-cream cannon, and is the only racer's power-up seen.
She, Snowanna and Nougetsia seem to be the only racers that are based around frozen treats.
Her plush smells like raspberries (or to be specific, blue raspberries, which became dyed blue for use in ice pops).
She appears to be particularly close friends with Snowanna and Jubileena.